24 Hours
Online Instructor-led Training
INR 38000 (INR 76000)
Save 50% Offer ends on 22-Jul-2020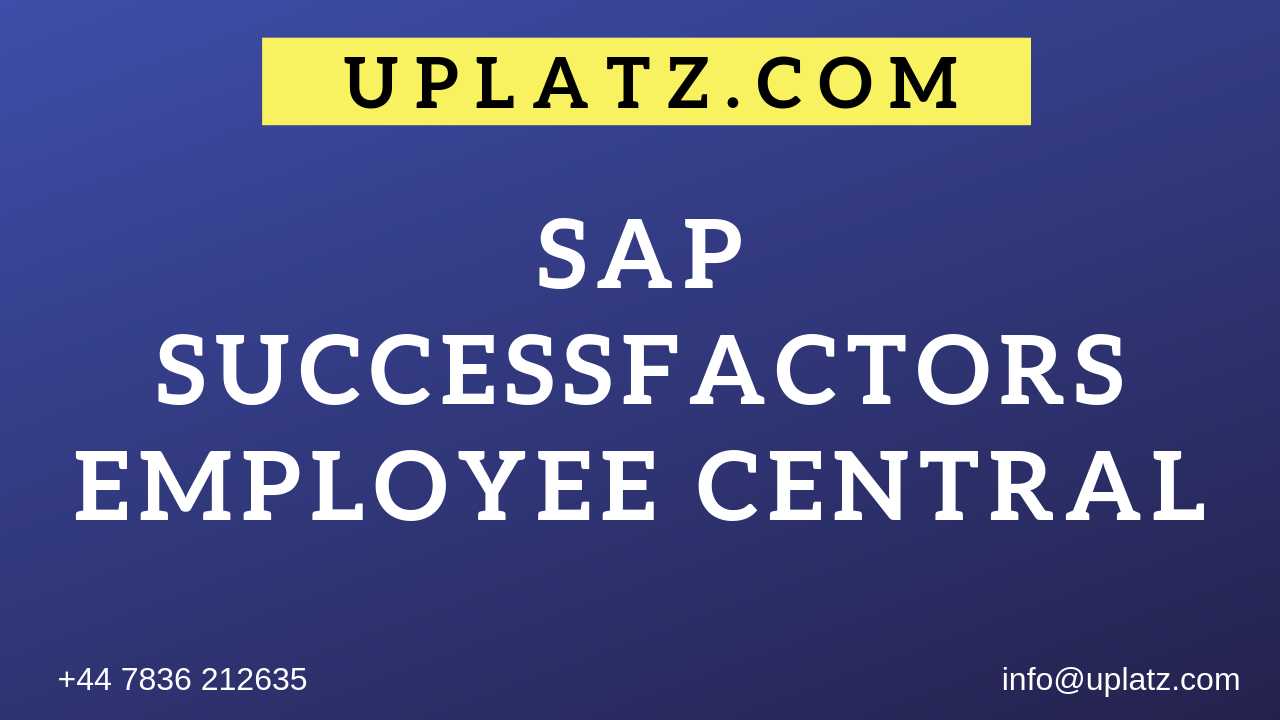 About this Course
Employee Central
is the core module of SAP SuccessFactors where all employee data is stored. Anyone looking to start learning SuccessFactors would need to start from Employee central commonly refereed as SF-EC.
SAP SuccessFactors Employee Central is a cloud based SAAS application software tool and is a key component of SAP SuccessFactors HCM Business suite covering core HR applications including employees' data management, talent management, HR Analytics, succession planning, and the like.


Who can go for SAP SuccessFactors Employee Central Course?
SAP SuccessFactors Employee Central module is most suitable for HCM working professionals, beginners, SAP Consultants or anyone who is interested to learn SAP SuccessFactors Employee Central course.

What is SAP SuccessFactors Employee Central Management Certification code?

All students are advised to appear & qualify the SAP SuccessFactors Employee Central Management global certification exam to validate their knowledge & practical skills as well as to get global recognition for getting premium jobs in this area.


SAP SuccessFactors Employee Central Certification
SAP Certified Application Associate – SAP SuccessFactors Employee Central Q4/2018
Certification Code: C_THR81_1811
Level: Associate
No of Questions: 80
Time: 180 Minutes

What you will learn in SuccessFactors Employee Central Management module?
In SAP SuccessFactors Employee Central module, you will learn core HR requirements and management processes such as:
1. Employees data & position Management
2. Configuration of workflow & business rules
3. Data import & export
4. System security Management
5. Language setting & implementation

------------------------------------------------------------------------------------------
SAP SuccessFactors - Employee Central
Course Details & Curriculum
Introduction to Mastery Topics:
1. Cloud and SF Architecture
2. Instance, Provisioning explanation
3. Technical Architecture
4. Integration Technology/Tools
5. Bizxpert Methodology – Implementation Methodology.
6. Basic company settings in Provisioning
7. Creating administrators in Provisioning
8. Creating administrators in Instance
9. Instance basic settings – Passwords, Home Page, Welcome Menu, Company
info, Employee files
10. Administrator tools
11. Commonly used terms
12. Admin Privileges
13. Proxy Management
14. Setting up company Logos
15. Manage Data User Records
16. Employee Data File
17. Permissions
18. Role Based Per missioning (RBP).
19. Pick list Management.
20. Text Customization in Instance
21. XML and Data models
22. People Search
23. Rating Scales
24. Route Maps (Workflow)
25. Launching forms
26. Employee Profile
Employee Central Mastery – Core HCM module
1. Introduction and basic provisioning set up exercises
2. Data models
3. Employee Central Structure
4. Data model Management
5. Data model Associations
6. Enable employee central and RBP
7. Update employee details
8. ESS/MSS functionality
9. Understanding security
10. Managing security with RBP
11. EC as a system of record
12. EC Customizing and Populating Basic Foundation data
13. Customizing Country specific files in Foundation tables
14. Creating and modifying associations
15. Propagations
16. Importing users and data
17. Mass Changes
18. Customizing employee files
19. Customizing CSF for employee files
20. Position Management
21. Absence Management
22. Employee Central Reporting and Integration
24. MDF Overview
25. MDF Objects creation
26. Manage Business Configuration Rules setup
27. Manage Workflow Requests/groups
28. Org Chart
29. Manage Sequence
30. Monitor Job

------------------------------------------------------------------------------------------
Job Prospects
The average salary ranges from approx. £42,374 per year for SAP SuccessFactors Consultant to £145,687 per year for SAP SuccessFactors Lead/Manager.
There are currently 15,000+ open SAP SuccessFactors jobs in UK ranging from SuccessFactors end-users to consultants to managers.
For more details, please visit Uplatz Resourcing
----------------------------------------------------------------------------------------------------------------------------
Career Path
SAP SuccessFactors training will open many new job opportunities for you, some of them are:
1. SAP SuccessFactors Lead
2. SAP SuccessFactors Consultant
3. SAP SuccessFactors Implementation Consultant
4. SAP SuccessFactors Functional/Integration Consultant
5. SAP SuccessFactors Payroll Consultant
6. SAP SuccessFactors Workforce Consultant
7. SAP SuccessFactors Business Analyst
8. SAP SuccessFactors Deployment Lead
9. SAP SuccessFactors System Lead

------------------------------------------------------------------------------------------
FAQ
Will this course help me clear the certification exam?
+
What is SAP SuccessFactors Employee Central Management?
+
Which coding language is required to learn SAP SuccessFactors Employees Central?
+
Can I learn SAP SuccessFactors Employee Central course online?
+
What is the need of SAP SuccessFactors Employee Central Management training?
+
Which is better - Self-paced training or Instructor-led training?
+
What if I miss a class?
+
How will I execute the practical?
+
Is the course material accessible after completion of the course?
+
Is there any offer/discount that I can avail?
+
Will I get a refund if I cancel my enrollment?
+
What if I have queries after completion of the course?
+