26 Hours
Online Instructor-led Training
USD 1399 (USD 2800)
Save 50% Offer ends on 31-Dec-2023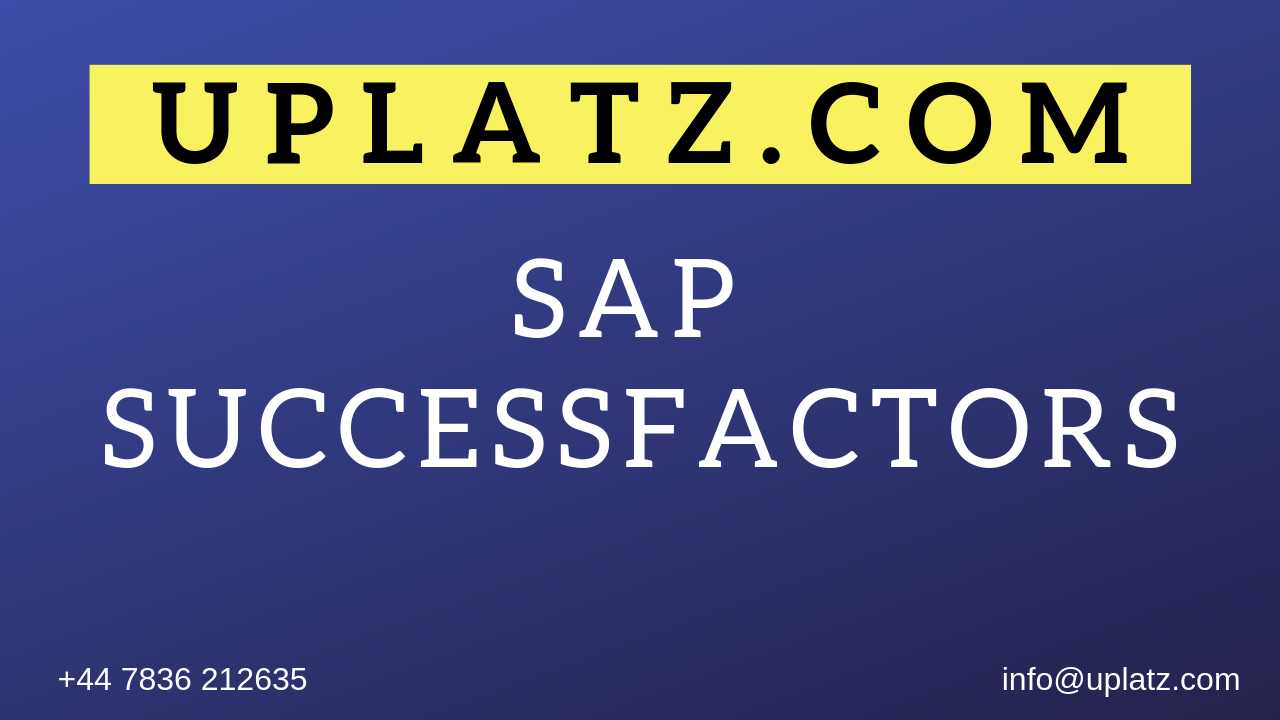 About this Course
SAP SuccessFactors is a cloud based platform provided by SAP to manage Human Resources (HR) related operation in an organization.
The word "cloud" has become the buzzing word to the latest emerging applications which are being delivered in the corporate world. SAP SuccessFactors is also related to cloud-based HR Information System (HRIS) which enables best business process in order to achieve the greatest path to success.

SAP SuccessFactors is one of the most widely used cloud based SAP HCM software and is helpful in the management of full range of HCM functionalities like: Talent Management, HR Analytics, Payroll management, Recruitment etc. SAP SuccessFactors is based on Software-as-a-Service (SAAS) model, which doesn't require the maintenance and installation of any hardware.
Because of huge benefits of SAP SuccessFactors cloud HCM Software, it is one of the most successfully used in most of the modern companies. And you can see Lot of job openings around the world that motivates professionals and beginners to Learn and earn in SAP Successfactors cloud HCM field.
Uplatz is reputed SAP SuccessFactors Training Provider in the market, our SAP SuccessFactor course curriculum is best designed for beginners and professional learners. We are having certified professional SAP SuccessFactor online tutors who have great teaching experience, and able to provide hands on practical and project oriented SAP SuccessFactors Training.
Our goal is to provide you best facilities for SAP SuccessFactors online training so that our participant would easily qualify the SAP SuccessFactors Certification exam, to prove their theoretical and practical knowledge.


SAP SuccessFactors is divided into many different components and students can aim for one or multiple certifications.
1) SAP Successfactors Employee Central: This is the core module where all employee data is stored. Anyone looking to start learning SuccessFactors would need to start from Employee central commonly refereed as SF-EC
2) SAP Successfactors Performance & Goal Management: This is the component where business can assign goals to te employees based upon business targets and can recognize the top talent.
3) SAP Successfactors Compensation: Compensation helps business leaders, compensation managers, and HR professionals dramatically improve budget accuracy, reduce risk, and tie their greatest expense employee pay -to actual business results. It is the most comprehensive compensation management suite in the market.
4) SAP Successfactors Learning Management System: as the name suggest this is a cloud based component which has all the learning related activities, it can store all e-learning which a company has to offer, it will also allow each employees to have a career plan and provide all necessary learning to enhance their knowledge and help the organization to close the skill gap
5) SAP Successfactors Recruitment Management: It is a complete, collaborative, and mobile ATS that helps companies hire better by attracting, engaging, selecting, and onboarding the best fit talent. It also cover requisition, candidate, offer, and interview management, plus search, matching, reporting, compliance, and competency-based ratings.
6) SAP Successfactors Onboarding & Offboarding: Onboarding means you can engage new hires from the start. It is important to provide enhanced onboarding experience to the new hires to engage top talents from university. Offboarding 2.0 allows you to set up a exit process for employees leaving the company.
7) SAP Successfactors Variable Pay: Variable Pay is a type of employee compensation that varies, as opposed to salary, which is to paid in equal proportions throughout the year. It's often used as part of an overall compensation strategy to recognize and reward an individual, team or group based on achievements/contributions.
8) SAP Successfactors Employee Central Payroll: It is a cloud-based payroll system meant to provide the breadth of functionality and global coverage enterprises need. From a high level, Employee Central Payroll provides a number of important functions.
The SAP SuccessFactors training course is specifically designed to equip you with knowledge and practical experience to drive any business in this area or switch to a premium job in this field. The course will be taught by a highly experienced and expert instructor, and will contain SAP SuccessFactors training material, tutor notes, practical exercises, server access for practice, notes to help you in SuccessFactors certification, and life-time access to the session recordings.

Benefits of SuccessFactors module are:
a) Aligns –the labour force with a raising strategy and will make the people to work on the right tasks
b) Optimizes- the performance across the organization as you find the right people
c) Accelerates- the business results with more productivity Who can opt for SAP SuccessFactors?


Target Audience
1) Candidates with 3 to 4 years of experience in General HR module
2) People having Payroll experience
3) Professionals having Recruitment experience
4) Candidates registered for SAP OLTC (Online training) program
5) Working Professionals with good knowledge in SAP HCM modules with Domain experience
6) SAP Consultants keen to get certified
7) Support staff functioning on SAP HCM required skills
8) Having work experience in HR will be a benefit
9) Prior work experience in Recruitment
10) Working experience in consulting organizations in HCM


SAP SuccessFactors Certification


C_THR81_1811 - SAP Certified Application Associate – SAP SuccessFactors Employee Central Q4/2018
C_THR82_1811 - SAP Certified Application Associate - SAP SuccessFactors Performance and Goal Management Q4/2018
C_THR83_1811 - SAP Certified Application Associate - SAP SuccessFactors Recruiting Management (Core Configuration & ATS) Q4/2018
C_THR84_1811 - SAP Certified Application Associate – SAP SuccessFactors Recruiting Marketing (Career Site&Advanced Analytics) Q4/2018
C_THR85_1811 - SAP Certified Application Associate – SAP SuccessFactors Succession Management Q4/2018
C_THR86_1811 - SAP Certified Application Associate – SAP SuccessFactors Compensation Q4/2018
C_THR87_1811 - SAP Certified Application Associate - SAP SuccessFactors Variable Pay Q4/2018
C_THR88_1811 - SAP Certified Application Associate - SAP SuccessFactors Learning Management Q4/2018
C_THR89_1811 - SAP Certified Application Associate - SAP SuccessFactors Workforce Analytics & Planning Functional Consultant Q4/2018
C_THR91_1811 - SAP Certified Application Associate - SAP SuccessFactors Onboarding 1.0 Q4/2018
C_THR92_1811 - SAP Certified Application Associate - SAP SuccessFactors Reporting Q4/2018
C_THR95_1811 - SAP Certified Application Associate - SAP SuccessFactors Career Development Planning and Mentoring Q4/2018
C_THR96_1811 - SAP Certified Application Associate - SAP SuccessFactors Workforce Analytics Technical Consultant Q4/2018

----------------------------------------------------------------------------------------------------------------------------
SAP SuccessFactors Training
Course Details & Curriculum
1. INTRODUCTION TO MASTERY
Why Cloud?

Why SuccessFactors?

SuccessFactors Core & Talent Management modules Overview

Role of Professional Services Consultant

SuccessFactors BizX methodology

Accelerators, Configuration workbooks, Estimators, etc.

SuccessFactors BizXpert architecture

Business Execution process in detail

Understanding SuccessFactors terminology

Introduction to Instance

Introduction to Provisioning

Partner Portal, Community, SuccessStore, etc.

Home-page acquaintance

Portlets, Dashboards, Tile browser

Navigating Main Menu, Welcome Menu

To-Do list, Admin. Tools a glance

Welcome Menu Options

My favorites list

Search functionality

Help &tutorials

Personalizing the Instance

Welcome Portlets

Company logo, Theme manager

Theme manager, e-mail notifications, etc.

Introduction to Organization chart

Directory in Org. chart

Resources in Org chart

Personal card in detail

Introduction to Position Org. Chart

Add lower position

Add peer position

Manage position

Introduction to Position Org. Chart (cont..)

Internal number ranges

Advanced position management

Internal number ranges to Position

Introduction to Data (.csv) files

Export employee

Import employee

Manage employee
2. EMPLOYEE CENTRAL
Data Models: Corporate data model

Succession data model

Country-Specific Corporate data model

Country-Specific Succession data model

Foundational Objects configuration

Organizational Foundational Objects

Job Foundational Objects

Pay Foundational Objects

Generic Objects, Cost center

Other FO, Workflow configuration

Other FO, Event reason

Other FO, Dynamic role

Introduction to Proxy management

Add/Hire new Employee

Understanding New Hire workflow

Monitoring Workflows

Introduction to Employee profile

Employee Self Service

Manager Self Service

Data Change workflow

Introduction to Role Based Permissions (RBP)

User Permissions, Administrator Permissions

Permission Roles, Permission Groups

Manage Security

Introduction to Extended Markup Language (XML)

Working with XML pad

Document Type Definition (DTD) files

Creating/Modifying Rules

Introduction to MDF (Meta Data Framework)

Generic Objects – Cost Centers

Manage Advance Objects

Manage Configuration UI

Picklist Management

Working with Propagation rules

EC – Payroll Overview

Leave of Absence - Overview

Introduction to Time Off

Define Holiday calendar and work schedule

Define Time type and Time profiles

Set up Time Off for Employees
----------------------------------------------------------------------------------------------------------------------------
Career Path
SAP SuccessFactors training will open many new job opportunities for you, some of them are:
1. SAP SuccessFactors Lead
2. SAP SuccessFactors Consultant
3. SAP SuccessFactors Implementation Consultant
4. SAP SuccessFactors Functional/Integration Consultant
5. SAP SuccessFactors Payroll Consultant
6. SAP SuccessFactors Workforce Consultant
7. SAP SuccessFactors Business Analyst
8. SAP SuccessFactors Deployment Lead
9. SAP SuccessFactors System Lead

------------------------------------------------------------------------------------------
Job Prospects
The average salary ranges from approx. £42,374 per year for SAP SuccessFactors Consultant to £145,687 per year for SAP SuccessFactors Lead/Manager.
There are currently 15,000+ open SAP SuccessFactors jobs in UK ranging from SuccessFactors end-users to consultants to managers.
For more details, please visit Uplatz Resourcing
----------------------------------------------------------------------------------------------------------------------------
FAQ
Will this course help me clear the certification exam?
+
Which is better - Self-paced training or Instructor-led training?
+
What if I miss a class?
+
How will I execute the practical?
+
Is the course material accessible after completion of the course?
+
Is there any offer/discount that I can avail?
+
Will I get a refund if I cancel my enrollment?
+
What if I have queries after completion of the course?
+