30 Hours
Online Instructor-led Training
USD 1399 (USD 2800)
Save 50% Offer ends on 31-Dec-2023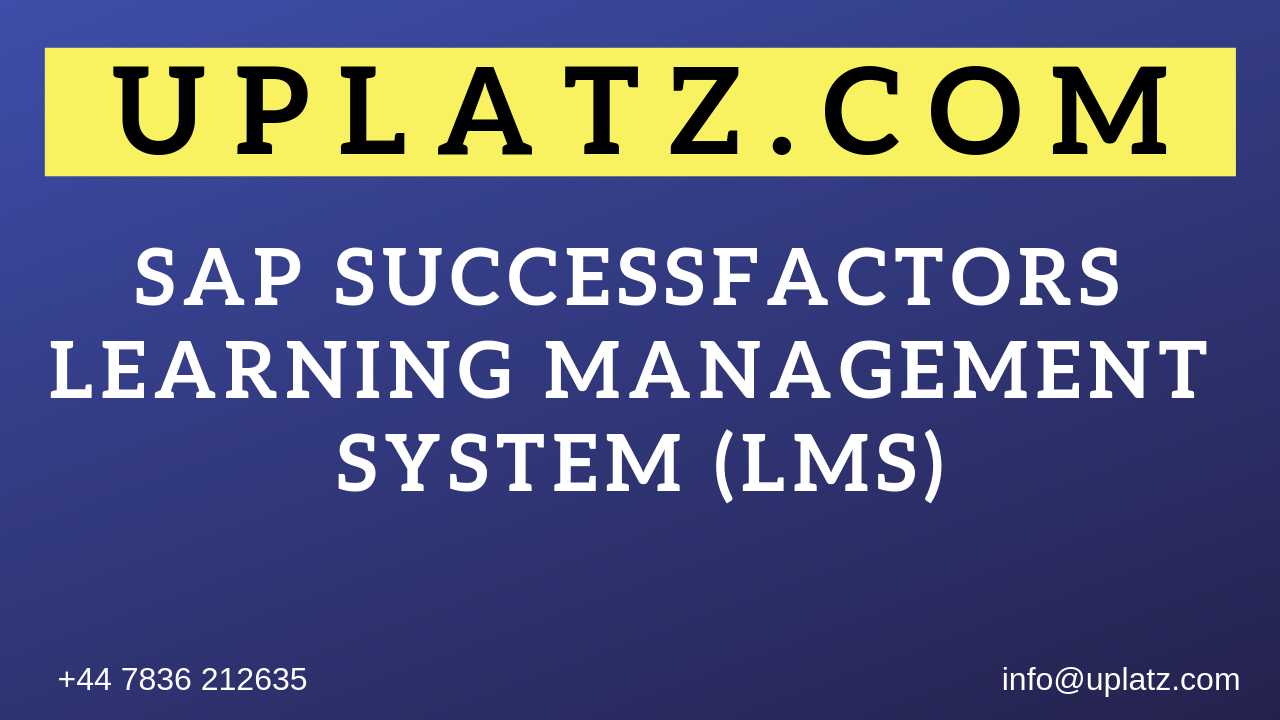 About this Course
SAP SuccessFactors Learning Management HCM software provides various learning strategies & learning solutions for employees development by facilitating various kind of trainings like instructor-led, social, e-learning, classroom, and online training. SAP SuccessFactors Learning Management HCM software is beneficial in the employees' skills improvement & development of leadership qualities which help them to perform in an outstanding manner.


SAP SuccessFactors LMS Certification

Exam Name: SAP Certified Application Associate - SAP SuccessFactors Learning Management Q4/2018
Certification Code: C_THR88_1811
Level: Associate
Questions: 80
Time: 180 Minutes


What you will learn in SAP SuccessFactors Learning Management module?
In SAP SuccessFactors Learning Management Training you will learn basic fundamentals of learning management HCM business suite like:
1. Configuration of learning standard and controls on SAP SuccessFactors LMS business suite
2. Creation and integration of content
3. Setup & test the configuration of connectors on SAP SuccessFactors HCM business suite
4. Security control strategies & Program Management
5. Configuration of LMS with SAP SuccessFactors HCM etc.

-----------------------------------------------------------------------------------------

SAP SuccessFactors - Learning Management System (LMS)
Course Details & Curriculum
Module: Introduction to Mastery Topics:
1. Cloud and SF Architecture
2. Instance, Provisioning explanation
3. Technical Architecture
4. Integration Technology/Tools
5. Bizxpert Methodology – Implementation Methodology.
6. Basic company settings in Provisioning
7. Creating administrators in Provisioning
8. Creating administrators in Instance
9. Instance basic settings – Passwords, Home Page, Welcome Menu, Company info,
Employee files
10. Administrator tools
11. Commonly used terms
12. Admin Privileges
13. Proxy Management
14. Setting up company Logos
15. Manage Data User Records
16. Employee Data File
17. Permissions
18. Role Based Per missioning (RBP).
19. Pick list Management.
20. Text Customization in Instance
21. XML and Data models
22. People Search
23. Rating Scales
24. Route Maps (Workflow)
25. Launching forms
26. Employee Profile
Module: Employee Central Mastery – Core HCM module
1. Introduction and basic provisioning set up exercises
2. Data models
3. Employee Central Structure
4. Data model Management
5. Data model Associations
6. Enable employee central and RBP
7. Update employee details
8. ESS/MSS functionality
9. Understanding security
10. Managing security with RBP
11. EC as a system of record
12. EC Customizing and Populating Basic Foundation data
13. Customizing Country specific files in Foundation tables
14. Creating and modifying associations
15. Propagations
16. Importing users and data
17. Mass Changes
18. Customizing employee files
19. Customizing CSF for employee files
20. Position Management
21. Absence Management
22. Employee Central Reporting and Integration
24. MDF Overview
25. MDF Objects creation
26. Manage Business Configuration Rules setup
27. Manage Workflow Requests/groups
28. Org Chart
29. Manage Sequence
30. Monitor Job
Module:: Position Management
1. Manage Positions
2. Position Management settings
3. Position Org chart
4. Import & Export Data
Module::Analytics & Reporting Topics
1. Introduction to Reporting
2. Introduction to Dash Boards
3. Set up process dashboards
4. Analytics 2.0 Overview
5. Manage Report Permissions
6. List view reports
7. Spotlight view reports
8. Spread sheet reports
9. Classic reports
10. Adhoc reports
11. Advanced Reporting.
Module :: TIME MANAGEMENT
1. Time off Process & Workflows
2. Manage Time off Calendars
3. Manage Time off Structures
4. Absence Management
-------------------------------------------------------------------------------------------------------------------------
Career Path
SAP SuccessFactors training will open many new job opportunities for you, some of them are:
1. SAP SuccessFactors Lead
2. SAP SuccessFactors Consultant
3. SAP SuccessFactors Implementation Consultant
4. SAP SuccessFactors Functional/Integration Consultant
5. SAP SuccessFactors Payroll Consultant
6. SAP SuccessFactors Workforce Consultant
7. SAP SuccessFactors Business Analyst
8. SAP SuccessFactors Deployment Lead
9. SAP SuccessFactors System Lead

------------------------------------------------------------------------------------------
Job Prospects
The average salary ranges from approx. £42,374 per year for SAP SuccessFactors Consultant to £145,687 per year for SAP SuccessFactors Lead/Manager.
There are currently 15,000+ open SAP SuccessFactors jobs in UK ranging from SuccessFactors end-users to consultants to managers.

----------------------------------------------------------------------------------------------------------------------------

SAP SuccessFactors LMS Interview Questions

----------------------------------------------------------------------------------------------------------------------------


Q1) What do you mean by Corporate Data Model?
By the term Corporate Data Model, it means firm-wide exercises in order to determine the locations of data; for example, divisions, departments, servers, and more. It also means the interrelationships as well as interconnections. The foundation objects alongside their respective relationships are elaborately defined in Corporate Data Modeling. Objects here include Foundation Tables, Organization as well as Job and Pay.


Q2) Why is Propagation Data Model Usable?
Talking about Propagation Data Model, the HRIS Propagation Data Model (to be apt) is generally used for Auto Population by means of the Foundation Tables from Corporate Data Model.


Q3) Can the levels get linked to the job grades?
The answer to this particular question is no. The levels can absolutely not get linked to the job grades. When someone stands in a particular job grade, it does not really mean that it would rule out any of the other levels. Nevertheless, when a job is more senior than the current, one would definitely expect to witness more advanced behaviors regarding the university level.


Q4) What does DTD stand for?
The term DTD means a data model. The term stands for Document Type Definition.


Q5) Define DTD. What do you mean by the term?
A DTD or Document Type Definition defines the structure of the document as well as the elements of one's XML. For example, when a new HRIS-element has been introduced, and the Document Type Definition (DTD) doesn't come with any related attributes, one will get errors that he or she cannot move past.


Q6) Why is DTD or Document Type Definition important?
Document Type Definition or DTD means a data model. According to the expert views, DTD helps in constructing a high-qualified HR in the particular cloud. When a high unified HR is appointed, he or she is the most important person to maximize the outcome of any particular business of the respective organizations.


Q7) When you see a SuccessFactors changing in a year,what review will you give by the coming PDR?
When someone sees a particular SuccessFactors getting changed over one year, then there's a great deal of communication involvement is needed. One can review accordingly with the help of the communication between the manager and the individual. [One Quick Note: the change can also have an impact on the PDR form, both positively as well as negatively.


Q8) How will you define SuccessFactors?
In any kind of business, SuccessFactors are mandatory to know if anyone tends to acquire a successful career. SuccessFactors are nothing but the combination of those important facts and details required to accomplish any desired business goals. SuccessFactors are of many, but one of the examples is promoting food products for animals. Although the aforementioned example might be for advertisement, it appeals to customers who are in a way the animal lovers. So, overall, SuccessFactors are vital to achieving a successful performance in the particular job.


Q9) What are the importance of the SuccessFactors and how to choose the right one?
SuccessFactors are important to achieve a successful performance in any job. The importance of SuccessFactors come in plenty. While promoting animal foods might be just for advertisements, it does appeal massively to the animal lovers in the market. In this way, a successful business runs, hence every job role. SuccessFactors are predictable only if one implements the information of the job analysis and the HR's or manager's suggestions.


Q10) Is SuccessFactors used to Get-Rid of the Mob?
First and foremost, SuccessFactors are not developed for getting rid of the people. They are more importantly enhanced and developed to build a relationship with every customer or individual. They are built to develop every individual. But when the behavior in the job is vital, and there's absolutely no development anyway, then getting rid of people is issued by the SuccessFactors.


Q11) What are the things that are present in the Succession Data Model? Explain it briefly.
In a Succession Data Model, all records of the employee are present. This kind of the succession data mode happens to construct the fields both internally as well as externally. By internally, it means the information that is related to the employment. While on the contrary, by externally, it means any personal information of the employee.


Q12) Why do you witness three levels in a particular framework? Explain.
When someone is interested in this particular field, they see three levels in any framework. This is due to several facts. One of them being, the three levels in a framework helps in explaining a wide range of categories in terms of behavior which are closely related to multiple job roles, even if their levels aren't ranked with a similar approach.


Q13) Suppose an employee doesn't settle over the SuccessFactors given by the respective manager. How to solve it?
Talking about the manager, he or she is the one who keeps the job information and also analyzes the estimation of the SuccessFactors by discussing it elaborately with the individual. If the employee doesn't agree to the terms and conditions of the SuccessFactors that are given by the manager, then it can be resolved easily. It just depends on the manager.


Q14) How many data model types are present in the employee center?
There happens to be a total of seven types of the data model in total that is present in the employee center.


Q15) Is selecting the same level of the known SuccessFactors a necessity?
The truth is that selecting the same level of the known SuccessFactors is not really a necessary thing. For, it may also result in the single level.


Q16) How will you be able to set a particular field for users to edit it accordingly?
You can easily set the field such that editing it for users doesn't become a hefty job. You will only have to select the attribute visible='both'.


Q17) What is best XML editor?
The below-mentioned points elaborately explains it. The points are as follows:
1. A wide range of choices is then when choosing the best XML editor. When comparing the Oxygen with XMLSpy, Oxygen happens to be better in several ways. It is perfect for any user, especially for MAC folks.
2. XML parser in Oxygen is more advanced and effective than you ever thought of. You don't really need to wait for the time to witness any error occurring while uploading data model in the Provisioning. While validating XML, it provides easier troubleshooting method.


Q18) Can a SuccessFactors get changed after it's chosen for a particular role?
The answer to this question is, yes. A SuccessFactors can get changed once it is chosen for a role. But it depends on the needs or requirements of the respective role. As SuccessFactors is fluid, it can differ from one year to another.


Q19) Can SuccessFactors get applied to the academic staffs?
There happens to be a similar framework for the Strategic Leaders Framework as well as another for the researcher. This is based on the respective SuccessFactors. The idea is to go forward with a similar approach for the staff groups in all universities.


Q20) How much time will the SuccessFactors' assessment take? Explain.
The assessment in the very beginning might take a lot of time since it is a new process. But while working on the newer concepts, they can bring benefits and also take lesser time than expected.


Q21) How will you be able to musk the sensible data in the fields?
You can easily and seamlessly be able to musk the sensible data in the field. The process is very simple. You will have to proceed with it just by setting the attribute pii='true'.


Q22) Explain the benefits of Corporate Data model.
The Corporate Data model impacted massively. Below, there's point-wise information on the benefits of Corporate Data model.
First off, Corporate Data model is basically used to define the structure of the organization.
Secondly, the foundation objects get configured in Corporate Data model.
Thirdly, the associations are also built in the corporate data model.
Lastly (but not the least one), there are standard HRIS-elements which one can work within this particular data model. Every element has custom and standard fields with attributes determining the behavior of the simple UI.


Q23) How will you be able to integrate employee central with SuccessFactors of the products?
You will be able to integrate employee central by internal means. It might proceed with other products of the SuccessFactors through the HRIS Sync.


Q24) What do you mean by the term Succession Data Model? Explain.
In this particular data model, you have to define the HR data, i.e., the employee as well as the person. This particular model is known as 'data model' in the Provisioning. Also, the Metadata framework rapid advancement leads to customer configuring almost all the elements on the UI of One Admin.


Q25) What is the expected production of the evidence in accessing SuccessFactors product?
The best way to proceed with this is to look over the earlier 12 months for instance and then pick up any two or three examples that can safely demonstrate the SuccessFactors more evidently.


Q26) What do you mean by CSF (or Country Specific) Corporate Data model? Explain briefly.
CSF (or Country Specific) Corporate Data model is briefly explained in the below-offered point-wise information. The benefits are as follows:
1. Country Specific or CSF Corporate Data model features some standard localization elements that are delivered. For example, the National ID, and so on.
2. One has to define the HRIS-element in the CSF (or Country Specific) Corporate data model to specify the country-specific attributes for that particular element.


Q27) If you forget your password in SuccessFactors, then how will you troubleshoot?
If the organization that you are into has already enabled the feature of the password help section, then you can regain the access to SuccessFactors just by clicking on the 'Forget Password' option right on the page of login. You have two options – either you will have to retrieve, or you will have to reset the password. It depends on password policies of the company. If the aforementioned feature is unavailable or you have no idea where to log in, then contact the individuals within the respective company.


Q28) How will you define customers' requirements in the data model?
First and foremost, one has to upload the data models in the provisioning to the instance of the customer. The errors that aren't fixed in the XML parser will be caught here. Therefore, individuals have to upload close-to-relevant data. Frequently, individuals often are mistaken and don't see errors, but the processing keep on working endlessly.


Q29) What are the value proposition of SuccessFactors?
There are multiple values of the SuccessFactors. They are written as follows:
1. Able to advance the features of the products more progressively.
2. Align the features that are existing but with enhancements when requested by customers.
3. Organic designs warrant a platform where it doesn't need a lot of time to make changes. It needs minimal retrospective and compatibility challenges only.

----------------------------------------------------------------------------------------------------------------------------

FAQ
Will this course help me clear the certification exam?
+
What is SAP SuccessFactors Learning Management System (LMS)?
+
What is SAP SuccessFactors LMS online course duration?
+
What technical knowledge is required to learn SAP SuccessFactors LMS module?
+
Who can go for SAP SuccessFactors LMS course?
+
Which is better - Self-paced training or Instructor-led training?
+
What if I miss a class?
+
How will I execute the practical?
+
Is the course material accessible after completion of the course?
+
Is there any offer/discount that I can avail?
+
Will I get a refund if I cancel my enrollment?
+
What if I have queries after completion of the course?
+