30 Hours
Online Instructor-led Training
USD 2800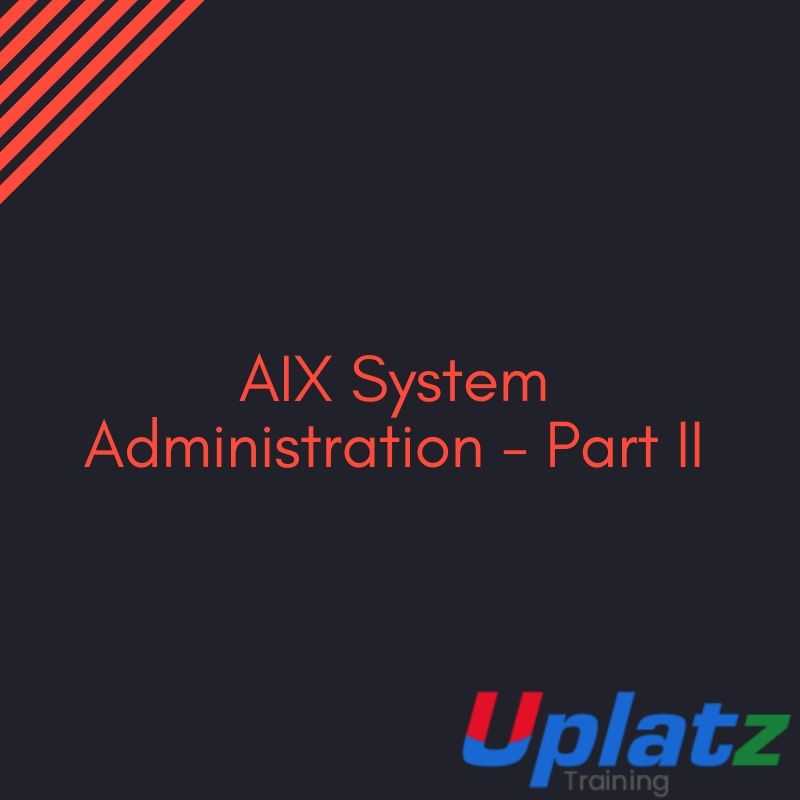 About this Course
AIX System Administration - Part II Course Overview
This IBM AIX System Administration training course is for System Administrators and Support Staff, who wish to perform advanced administration tasks, perform basic troubleshooting and improve security. Course Objectives are to be achieved by a mixture of command line syntax and use of the System Management Interface Tool (SMIT).
Although the course is based on AIX Version 7.1, it is also appropriate for prior releases of AIX.
----------------------------------------------------------------------------------------------------------------------------------------------
Who will the Course Benefit?
The AIX System Administration - Part II course is designed for AIX System Administrators and Programmers and other Technical IT staff who require a greater understanding of the AIX system to enable them to perform basic troubleshooting, make use of advanced security features and highlight current/potential performance issues.
The course assumes knowledge of the IBM AIX Operating System to the level covered in the AIX System Administration - Part I course.
---------------------------------------------------------------------------------------------------------------------------------
Course Objectives
On completion of the course the delegate will have practical experience of how to troubleshoot system startup problems, perform more advanced LVM tasks, implement system security and understand the ODM files in device configuration.
----------------------------------------------------------------------------------------------------------------------------------
Course Description
AIX System Administration Part 2 online course get started with AIX advanced system administration concepts. AIX System Administration Part 2 online course intention is to provide a foundation to implement administration of AIX system.
AIX System Administration Part 2 online course will allow the participants to understand the benefits of understanding the AIX advanced administration system.
AIX System Administration Part 2 online course is ideally developed for any programmers, system administrators who wants to specialize in AIX System Administration.
In the AIX System Administration Part 2 online training course, Uplatz provides an in-depth online training for the participants or learners to gain knowledge and able to implement system administration skills. Uplatz provides appropriate teaching and expertise training to equip the participants for implementing the learnt concepts in an enterprise.
AIX System Administration Part 2 online training course curriculum covers intro to RS-600 series , object data manager, boot problem management, LVM system data and recovery, system backup.
With the help of AIX System Administration Part 2 online course, the learners can discover:
Inhouse Terminology and concepts related to the AIX System Administration

Know network configuration

Understand the network troubleshooting concepts

Configure trusted path communications

Able to understand workload and bottlenecks
Uplatz provides an in-depth training to the learners to accelerate their knowledge and skill set required for an AIX system administrator
----------------------------------------------------------------------------------------------------------------------------------
This is a AIX System Administration - Part II course by Uplatz.
AIX System Administration - Part II
Course Details & Curriculum
AIX System Administration - Part II Training Course
Course Introduction
Administration and Course Materials
Course Structure and Agenda
Delegate and Trainer Introductions
Session 1: INTRODUCTION TO THE RS6000 (PSERIES)
Overview
IBM eServer (pSeries) Hardware Platform
Brief History
RISC Technology
POWER 6 Product Range
POWER 7 Product Range
The AIX Operating System
AIX 7 Overview of Features and Benefits
Useful Commands
Session 2: OBJECT DATA MANAGER
Introduction
ODM Components and Commands
ODM Components
ODM Commands - Object Classes
ODM Commands - Objects
ODM Commands - Descriptor Information
Searching the ODM
Overview of ODM Commands
What Data is not Managed by ODM?
The ODM Database
Database File Names
ODM File Locations
cfgmgr and the ODM
The Predefined Database Files
PdDv - (Predefined Devices)
PdAt - (Predefined Attributes)
CuDv - (Customised Devices)
CuAt - (Customised Attributes)
ODM Class Usage
Adding a New Device
Additional Device Object Classes
PdCn - (Predefined Connection)
CuDep - (Customised Dependency)
CuDvDr - (Customised Device Driver)
CuVPD - (Customised Vital Product Data)
Session 3: SYSTEM INITIALISATION
System Startup and The Boot Process Introduction
System Startup and the Boot Process
AIX System Boot Sequence
The Bootlist and BLV
The Boot Logical Volume
Using Bootlists
Boot Problems
Accessing a System That Will Not Boot Normally
Accessing A Volume Group and Starting a Shell
Re-creating a damaged Boot Logical Volume
Accessing a Volume Group without mounting Filesystems
The LED Display
Flashing 888
Flashing 888 Followed by 102
Flashing 888 Followed by 103
Interpreting Flashing 888-103 Errors
Location Codes
Understanding SCSI Addressing
The Problem Summary Form
Maintaining Firmware Levels
Firmware From the Internet
Inventory Scout
Vital Product Data Upload Service
AIX Initialisation
Overview
rc.boot - Phase 1
rc.boot - Phase 2
rc.boot - Phase 3
More About cfgmgr
Config_Rules Object Class
Sample Boot Log Output
AIX System Administration - Part II Training Course
Session 4: BOOT PROBLEM MANAGEMENT
Introduction
Boot Problem Management
LED 553
LED 551
LED 552, 554, 556
LED 523 to 534, 517, 518 and 555
AIX Boot Diagnostic Numbers
Session 5: DISK MANAGEMENT
Local Volume Manager Review
AIX Disk Storage
Physical Volume and LVM
Volume Group Descriptor Areas
Physical and Logical Storage
Use Of Logical Volumes
Mirroring
Stripping
Volume Group Limits
Alternative Mirroring and Stripping with RAID
RAID Support Using AIX LVM
Striped Column Support for Logical Volumes
Session 6: LVM SYSTEM DATA AND RECOVERY
LVN System Data
LVM Identifiers
LVM Data on Disk Control Blocks
Other LVM Locations
How the LVM uses the ODM
Physical Volumes and the ODM
Volume Groups and the ODM
Logical Volumes and the ODM
LVM Problems in the ODM
Re-synchronizing the ODM
VGDA and Quorum
Forcing a varyon
AIX System Administration - Part II Training Course
Session 7: DISK MIRRORING AND STALE PARTITIONS
Mirroring
Dealing with Stale Partitions
Mirror Scheduling Policy
Sequential Mirroring
Parallel Mirroring
Mirror Write Consistency (MWC)
Mirroring the Root Volume Group
Session 8: DISK REPLACEMENT TECHNIQUES
Overview
Disk Replacement - Procedure 1
Disk Replacement - Procedure 2
Disk Replacement - Procedure 3
Disk Replacement - Procedure 4
Disk Replacement - Procedure 5
Possible Errors after Disk Replacement
Cycling LED Codes and boot Failure
Disk in VGDA but not in ODM
ODM Failures after Disk Replacement
Collecting LVM Data for Recovery
Gathering ODM Data
Gathering LVM data in the Disk Control Block
Korn Shell Script Debug
Session 9: EXPORTING AND IMPORTING VOLUME GROUPS
Overview
Exporting Volume Groups
Importing Volume Groups
Import VG Name Clashes
Problems with Importvg
Importing Volume Group using recreatevg
AIX System Administration - Part II Training Course
Session 10: BACKING UP YOUR SYSTEM
Overview
Cloning
Reducing a File System
Alternate Disk Installation - Overview
Installing a mksysb Image On Another Disk
Cloning the Running rootvg to Another Disk
Removing an Alternate Disk Installation
Backing up Non-Root Volume Groups
Using savevg
Backup from a Split Mirror
Session 11: PROBLEM SOLVING TOOLS
Error Log Facility
Error Log Input Components
Error Reporting from SMIT
The errpt Command
Sample Summary/Intermediate/Detailed Report Output
Interpreting LVM Error Log Entries
Error Log Maintenance
Error Notification Facility
Notification Methods
The syslogd Daemon
Diagnostics
The diag Command
Working with diag
AIX System Dumps
Overview
The Dump Process
The sysdumpdev Command
The dumpcheck Utility
Starting a Dump
Initiating a Dump from a TTY
LED Dump Codes
Copying a System Dump
Automatically Rebooting After a Crash
Sending a Dump to IBM
AIX System Administration - Part II Training Course
Session 12: PERFORMANCE AND WORKLOAD MANAGEMENT
Addressing the Problem
Understanding The Workload And Bottlenecks
Identifying CPU Intensive Tasks
Identifying High Priority Processes
Monitoring CPU Usage with sar
Monitoring Memory Usage with vmstat
Monitoring Disk I/O Using iostat
The topas Command
The tprof Command
The svmon Command
The filemon Command
Workload Management
The Performance Diagnostic Tool (PDT)
PDT Configuration Menu
PDT File Overview
The PDT.thresholds File
Monitoring Files, Directories and Host Availability
Session 13: ADVANCED SECURITY FEATURES
The Auditing Subsystem
The Configuration Files
The Object File
The Event File
The Config File
Using Bin Mode
Using Stream Mode
The Audit Command
Authentication and Access Controls
Physical Security
Login Security
Program Security
Path Problems
Encrypted Filesystems in AIX 7.1
Enhancing Login Security - Login Prompt
Enhancing Login Security - Restricted Shell
Customised Authentication Methods
Two Key Authentication
Access Control Lists
ACL Keywords and Format
The Trusted Computer Base
The TCB Components
Checking the TCB
The sysch.cfg File
The tcbck Command - Check Mode
Marking Files As Trusted
Trusted Communication Path
Configuring Trusted Path Communications
-----------------------------------------------------------
Certification
C9010-022: IBM AIX Administration V1 exam.
Attending this course will help gain some of the skills and product knowledge outlined in the exam objectives. Studying this course and its associated reference materials can form part of the preparation to achieve certification. Experience, practice, self-study and aptitude are also key requirements for exam success.
Before taking any exam, ensure you have the recommended experience. The IBM website lists all exam requirements and these are updated regularly.
Exams are not included as part of the course.
Career Path
AIX SYSTEM ADMINISTRATION PART 2 online certification course with the help of expert professionals training is recognized across the globe. Because of the increased adoption of the AIX System Administration concepts in various companies the participants are able to find the job opportunity easily. The leading companies hire AIX system administrator considering their skill of mastering AIX system administration concepts. AIX System Administration Part 2 online certification course is known for their knowledge in managing AIX enterprise system. After pursuing AIX System Administration Part 2 online certification course the participants can become as an AIX administrator, security analyst, network analyst, system administrator and can pursue a wide range of career paths.
----------------------------------------------------------------------------------------------------------------------------------